Tallebung (100% SKY)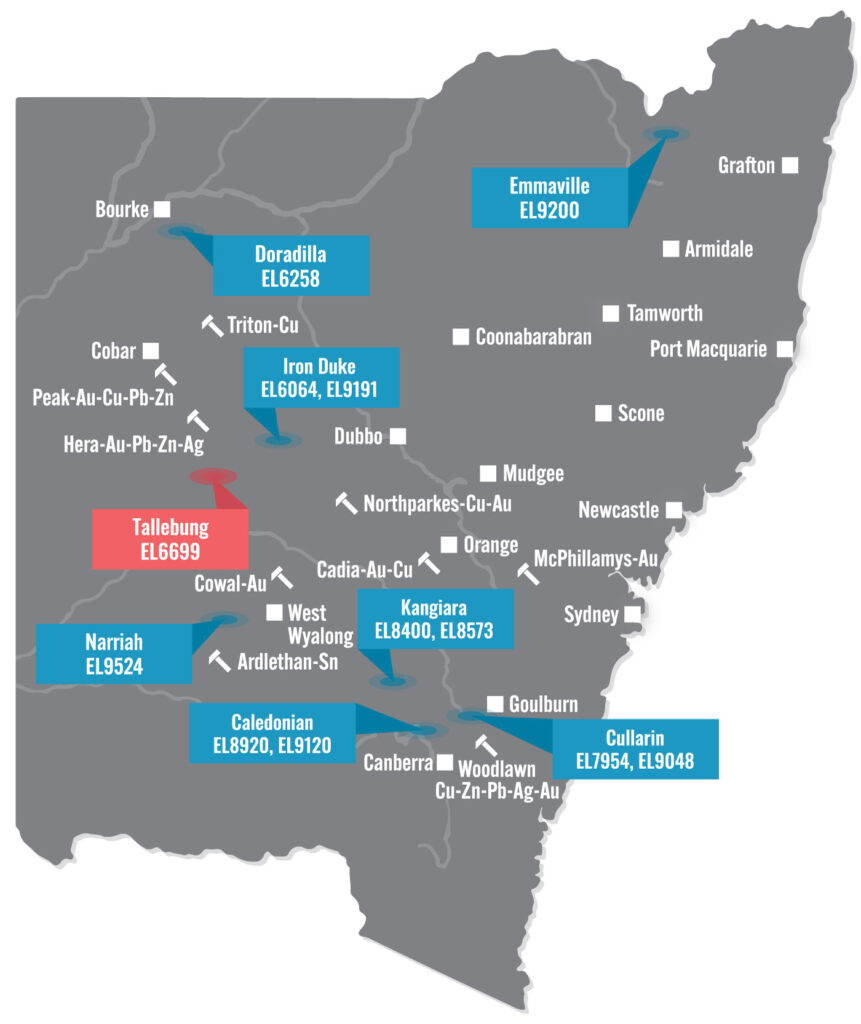 The Tallebung Project is located approximately 70km north-west of Condobolin in central New South Wales and is considered prospective for high-grade lode, porphyry style and bulk tonnage tin-tungsten mineralisation.
The area lies within the prospective Wagga Tin Belt of the central Lachlan Orogen, which includes the site of mainland Australia's largest historical tin resource at Ardlethan (>31,500t Sn).
Maiden Mineral Resource Estimate and Exploration Target – JORC-012
An Exploration Target at Tallebung of approximately 16 – 21 Mt at a grade ranging between 0.16 – 0.20 % tin at a cut-off grade of 0.10% tin has been defined from the drilling completed to date along with a maiden inferred JORC-2012 MRE of 10.2Mt 0.18% tin at a 0.10% tin cut-off grade. TOMRA Ore Sorting has shown that the grade can be at least tripled to over 0.5% tin with over 98% recovery of tin.
Classification
Tonnage
Grade
Contained Metal
Tin (%)
Tungsten (%)
Tin (kt)
Tungsten (kt)
Inferred MRE
10.2
0.18
0.03
18.0
2.7
For further details on the maiden Exploration Target and MRE, please see the ASX Announcement here
Project Sustainability
SKY aims to be an industry leader in environmental and sustainability practices. Tin at Tallebung is in a mineral called cassiterite and forms large "nuggets" which makes it uniquely easy to process. The coarse liberation size of the cassiterite means that it does not require large amounts of energy to crush and grind and the application of TOMRA Ore Sorting technology and Gravity Concentration Methods both work exceptionally well to save large amounts of power and water in the processing plant.
Demonstration of Ore Sorting Process – Video courtesy of Carlos Crowley Vazquez, BOEq & TOMRA Ore Sorting Solutions
The TOMRA Ore Sorting process at Tallebung requires no use of water or chemicals and reduces the total mass for further processing by at least 60-70%. This technology significantly reduces the use of water by a similar 60-70% in the processing and further work is planned to use the rejected mass from the Ore Sorting as barren waste material for sheeting roads, construction projects or other alternative income streams.
In addition to the Ore Sorting benefits, the gravity processing method to concentrate the tin at Tallebung only uses water recycled through the plant. This further reduces any water future water requirements and avoids using large quantities of chemicals required by some other tin concentration processing methods.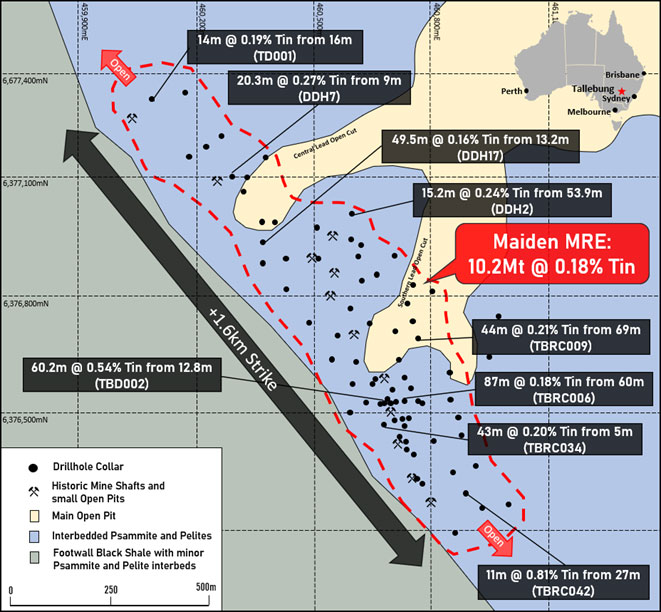 Mining History of the Tallebung Tin Field
The project is centred on the historic Tallebung Tin Field where numerous phases of mining activity have occurred over more than 100 years since its discovery in the 1890s. This activity targeted the high-grade quartz-lodes and the alluvial/colluvial material with a combined estimated historic production of 3,350 tonnes of tin concentrate. SKY is now targeting the bulk tonnage tin mineralisation underlying these areas of historic mining.
Due to the past mining activity at Tallebung, much of the costly infrastructure required for a mining operation is already in place. This includes powerlines to site, all-weather haul roads to site and within the site and an established past water supply enabling lower infrastructure set up costs for future mining operations.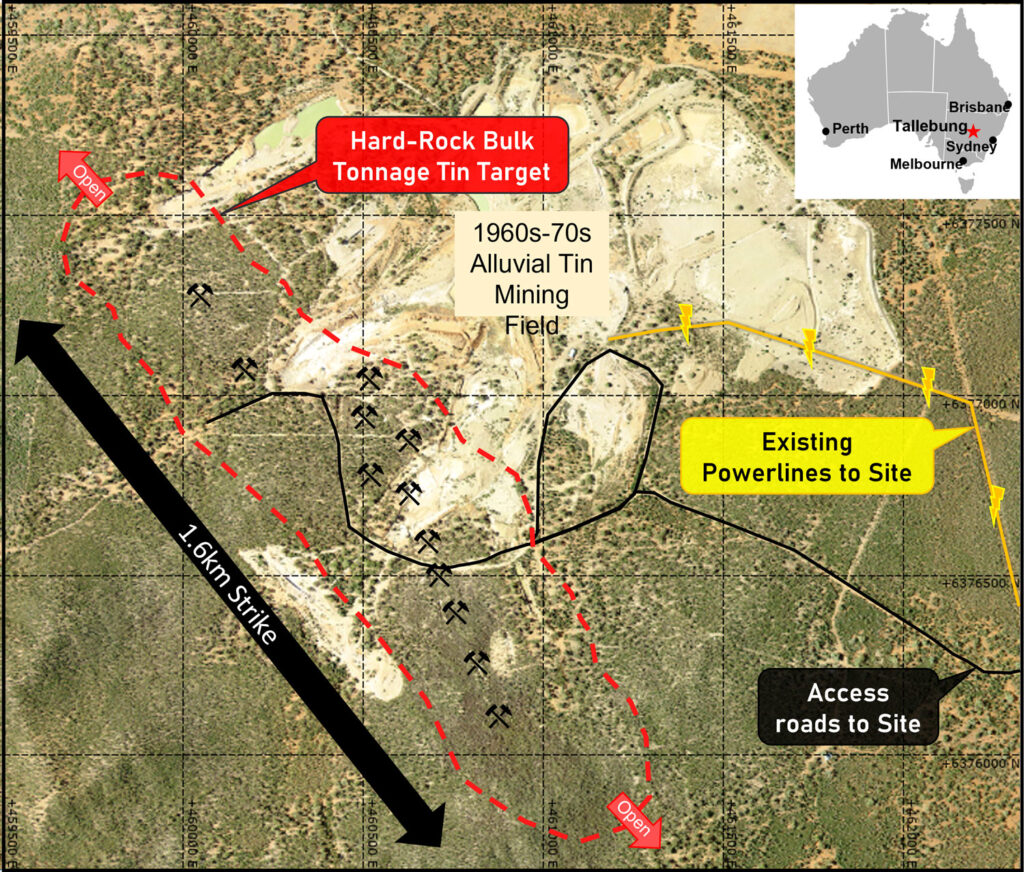 Next Steps
This maiden MRE and Exploration Target demonstrate the large-scale tin system that SKY is exploring at Tallebung. Follow up work will focus on expanding on these initial estimates to continue to grow this large target. SKY is planning drilling to infill and, ultimately, upgrade and expand this maiden MRE and Exploration Target in the following months to continue to develop the Tallebung Tin Project.
Additionally, a gravity geophysical survey completed in 2019 showed that a positive gravity anomaly is coincident with the tin mineralisation and extends well beyond the current extent of drilling, indicating that the Exploration Target and Inferred MRE remain open over more than 2km, significantly more than the current 1.6km strike drilled to date and indicating that there is still substantial opportunity to grow the large tin resource at Tallebung.