Kangiara – EL8400, EL8573 (Joint Venture, 80% SKY)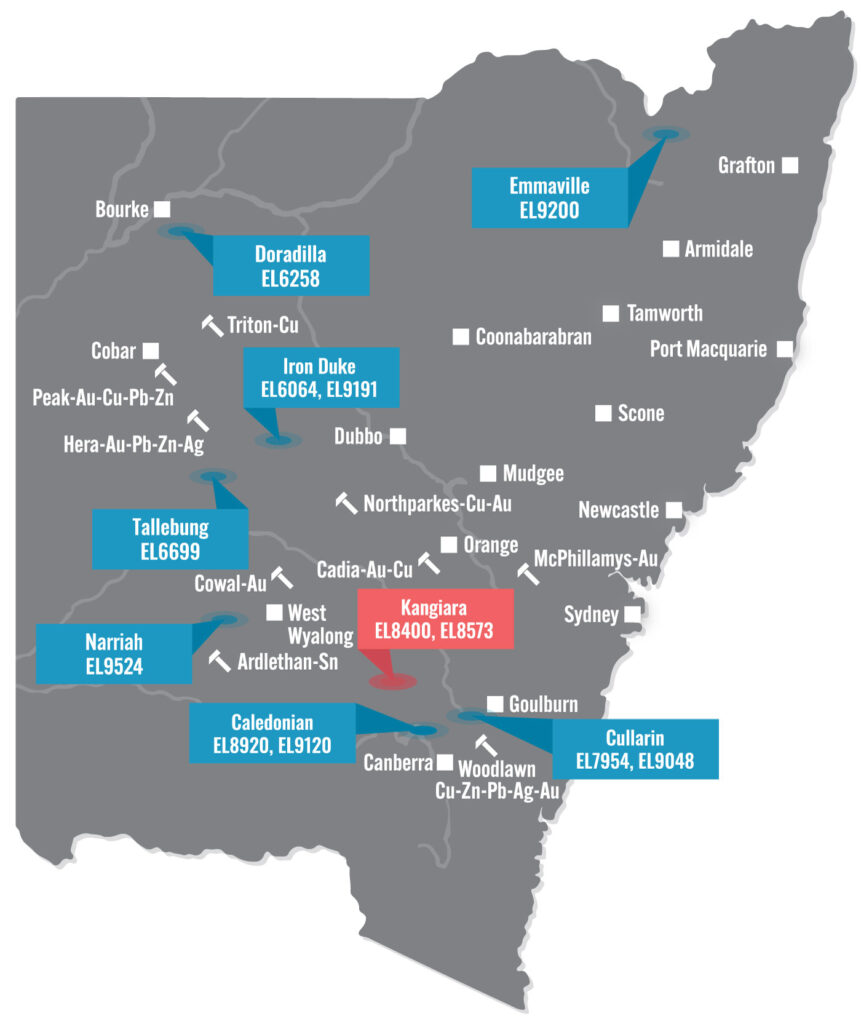 Kangiara is located 30km northwest of Yass in the Southern Tablelands of New South Wales. The area comprises volcanosedimentary rocks of the Silurian Douro Group and is considered prospective for a range of gold-copper-zinc mineralisation types.
The historic Kangiara Mine operated during the early 1900s, with documented production of ~40,000 tonnes at 16% Pb, 3% Cu, 5% Zn, 280g/t Ag and 2g/t Au from narrow N-S trending sulphide veins up to 120m depth.
An Indicated and Inferred Mineral Resource at Kangiara was defined in 2010 by the previous owners, Paradigm Metals Ltd. SKY has not yet verified this estimate and is reported here as an Exploration Target of approximately 2.0 to 3.0 million tonnes at grades of approximately 1.3% Zn, 1.0% Pb, 0.18% Cu, 0.5g/t Au and 24g/t Ag. This includes a higher-grade component of 1.25 million tonnes to 1.9 million tonnes at grades of approximately 1.9% Zn, 1.6% Pb, 0.28% Cu, 0.75g/t Au and 36g/t Ag. A gold-silver oxide cap has also been defined which grades 2g/t Au equivalent, averages 10m in thickness, is 260m long and up to 40m wide.
SKY recognises immediate exploration upside at Kangiara with a focus on faulted extensions to zones of known mineralisation and ranking of targets using McPhillamys-style gold exploration criteria.