Emmaville – EL9200 (100% SKY)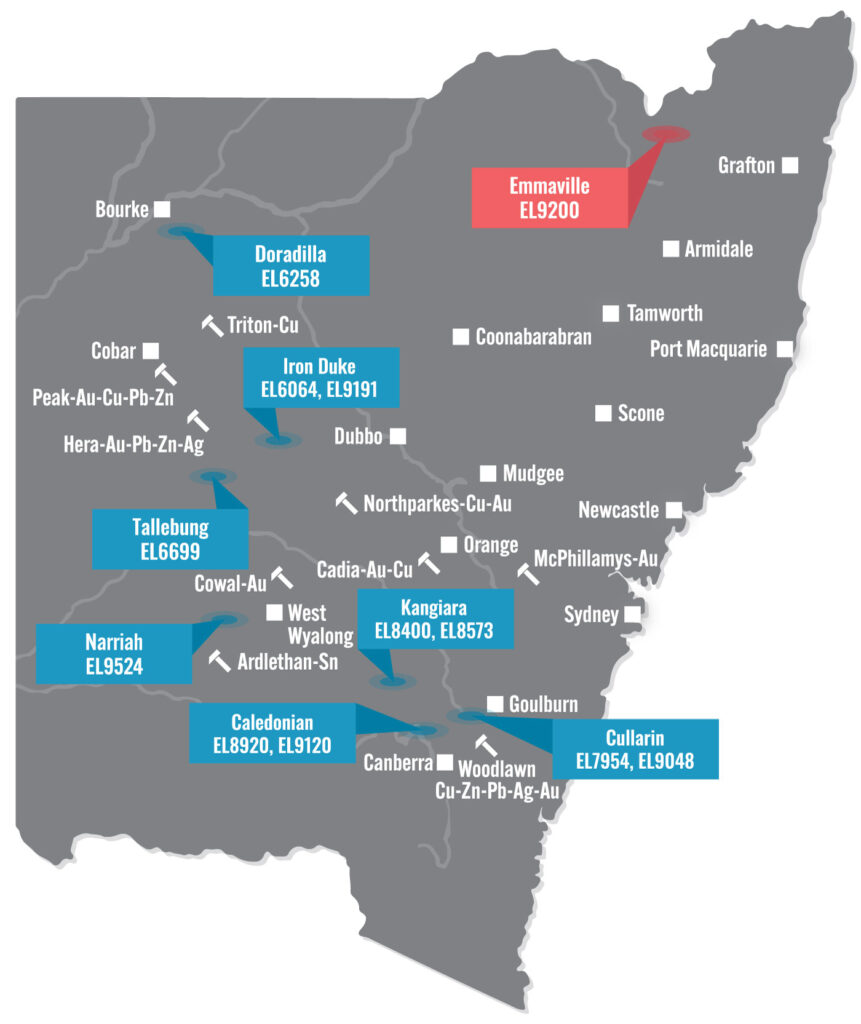 The Emmaville project was acquired by SKY to explore for tin near Emmaville in the New England District of NSW. This area was selected as it is considered to have significant potential to host hardrock tin resources and limited modern-day exploration has been conducted.
The Emmaville area of the New England Orogen is a well-known tin mining jurisdiction with tin first identified in 1853. Mining has been focussed on exploiting the abundant alluvial deposits in the area with minimal emphasis on the hard rock mining which requires more equipment and capital not available to the many early miners.
However, more intensive mining has followed these early workings with dredging of deep leads and mining of the hard rock deposits, chiefly focussed on the Great Britain lodes and the Vegetable Creek lead, both partially on the Emmaville tenement, as well as numerous deposits in and around the Mole Granite near EL9200.
The Emmaville tenement EL9200 is centred to the south of the Mole Granite, which is a Triassic I-type intrusion implicated for much of the mineralisation present in the region, including numerous alluvial and hard rock tin mines within and surrounding the Mole Granite itself. The Mole Granite has been eroded to expose an unroofed greisen, the erosion of which has formed the many alluvial tin deposits and, where it is not yet eroded, are where hard rock tin deposits remain in-situ.
This places the Emmaville tenement EL9200 in an extremely prospective neighbourhood for tin exploration with limited modern exploration completed.